About This New England
Lighthouse Tourism Website
Welcome to my website "New England Lighthouses and Local Coastal Attractions!" Your resource guide to discovering New England's coastal communities through its beacons.

Feel free to contact me anytime. alwood@nelights.com


Your New England Lighthouse
Research Page
For lighthouse hunters, you will find not only professional lighthouse photos, boat tours, and historical stories showcasing the nearly 170 lighthouses in New England, but also plenty of information about attractions near lighthouses you can visit while you're in the area.
There's plenty of helpful information for anyone visiting this website.
Using the Lighthouse Galleries tab, you'll find plenty of my photographs of New England lighthouse photographs and local scenery. You can purchase prints and canvas wrap frames.
The Lighthouse Stories section is a blog that provides famous stories of New England shipwrecks, rescues, lighthouse history, and some hauntings of New England lighthouses
The Exploring Lighthouses section is where you'll find lots of interesting historic human interest information about each lighthouse in New England (organized by region), boat tours and special cruises, contact information, directions, and places to visit near each lighthouse to learn more about the local community you're visiting. More photo galleries too!
I have two new lighthouse tourism books just published for northern and southern New England as detailed resource guides for all you travelers visiting lighthouses, and looking for indoor and outdoor attractions near these beacons aloing the coast.
More Lighthouse Resources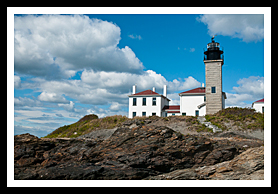 On the left side you'll find additional links to other valuable resources as you visit New England and its lighthouses. These include:
Contact information to New England lighthouse chapters under the American Lighthouse Foundation
Directions to all the New England lighthouses you can drive or take a ferry to see
Lighthouse boat cruises and tours to your favorite lighthouses, including ferries to islands.
More resources to be added in the future.

New England Lighthouses
| | |
| --- | --- |
| If you're looking for stories of shipwrecks, rescues, and folklore around New England's lighthouses, check out my book New England Lighthouses: Famous Shipwrecks, Rescues, and Other Tales by Schiffer Publishing. You can order it on my lighthouse website here and I'll be happy to sign it for you, or you can find it in many bookstores. | |
Come back often as this site is always a work in progress with more lighthouse stories, photos, and additional local attractions.